Co-Chairs
Andrew Gonzalez
McGill University
Montreal, Canada

Maria Cecilia Londoño
Alexander von Humboldt Institute
Bogota, Colombia
Secretariat (hosted at McGill University, Montreal, Canada)
Adriana Radulovici
Executive Secretary

Katie Millette
Science Officer

Jean-Michel Lord
Developer and Scrum Master

Veronica Wrobel
Communications and Engagement Officer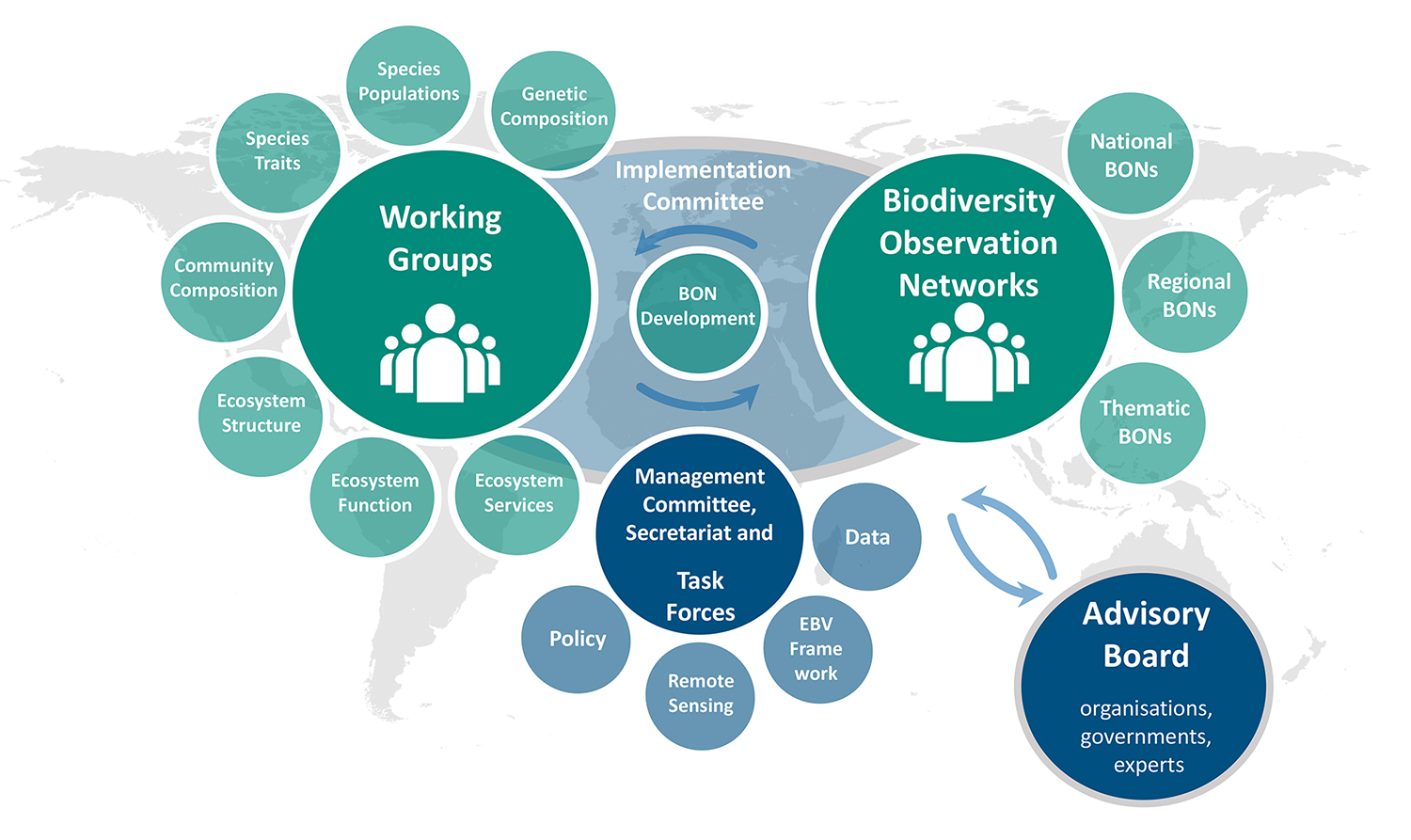 ---
Management Committee
Responsibilities
GEO BON operations; the MC meets monthly to discuss technical and substantive issues regarding GEO BON implementation and coordination.
Composition
Includes the members of the GEO BON Secretariat, the Co-Chairs, and other Officers; 3 year terms, renewable once.
---
Implementation Committee
Responsibilities
The IC implements the deliverables and the implementation plan of GEO BON. It approves the annual budget and has an executive function. The IC meets by phone quarterly and in person once a year.
Composition
Those actively engaged in implementing GEO BON including all members of Management Committee, WG Leads or Task Force Leads and Leads of BON's. New members must be confirmed by the peers in the Implementation Committee.
---
Advisory Board
Responsibilities
The Advisory Board meets once a year, together with the Implementation Committee, to provide strategic direction and feedback on GEO BON and helps to find funding. Members of the Advisory Board are elected by GEO BON's management committee every 3 years and are renewable once.
Composition
Advisory board members are representatives of organizations, governments, and experts, in a geographically balanced composition as well as other influential individuals with good ties to funding.
Members:
| Name | Institution | Country |
| --- | --- | --- |
| Tim Hirsch | Global Biodiversity Information Facility (GBIF) | Denmark |
| Donald Hobern | International Barcode of Life (iBOL) | Australia |
| Anne Larigauderie | Intergovernmental Platform on Biodiversity and Ecosystem Services (IPBES) | Germany |
| Marc Paganini | European Space Agency (ESA) | Italy |
| Jon Paul Rodrigues | IUCN | Venezuela |
| Woody Turner | US National Aeronautics and Space Administration (NASA) | USA |