The Genetics Composition working group (WG) aims to develop, test and improve approaches for assessing and interpreting genetic diversity.  The ultimate goal of this work is to conserve genetic diversity by:
measuring genetic biodiversity conservation progress

for informing policy makers and practitioners

supporting the integration of genetic management and monitoring

into threatened species recovery, reintroductions, and population management

facilitating scientific synthesis

of the numerous existing genetic datasets

assessing threats

to genetic diversity

supporting the planning and optimization of conservation measures

in situ (e.g. protected areas) and ex situ (seed banks, botanic gardens and zoos) and

promoting sustainable use

of genetic resources and harvested species for societal benefit
About Genetic Composition WG
Co-Leads
Sean Hoban
The Morton Arboretum
Margaret E. Hunter
U.S. Geological Survey

Anna MacDonald
Australian Antarctic Division
Interested to join?
Click the Register button.
Mission:
To help provide the data, tools, and knowledge needed to help safeguard genetic diversity of wild, managed and cultivated species for human well-being and ecosystem resilience.
Why genetics?
 Genetic diversity is important for nature, society, economies and well-being.
Genetic diversity helps species to adapt to environmental change and promotes resilient ecosystems and stable ecosystem services.

Horticulture, agriculture, forestry, fisheries and human health all depend on genetic resources.

The

Convention on Biological Diversity

considers genetic resources one of the three essential components of biological diversity.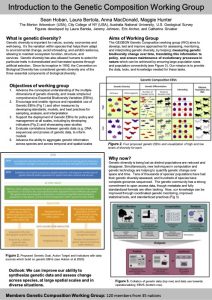 What aspects of genetics?
The Genetic WG is focused on improving our understanding of genomic diversity that allow species to adapt to changing environments and avoid inbreeding depression, as well as diversity that contributes genetic resources to society. The focus may also include the demographic processes that lead to loss of genetic diversity (e.g., demographic decline, inbreeding, geographic loss). The group is concerned with all species (domesticated, wild but harvested, and wild species), both in situ and ex situ.
Why now?
New techniques in statistics, computation and genetic technology are helping to quantify genetic change over space and time.  However, our knowledge can be improved through coordinated genetic monitoring, improved statistical tools, and standardized practices for sampling and interpreting data.  An important challenge is improving our ability to synthesize genetic change across species, at large spatial scales and in diverse situations.
Key objectives
Advance the conceptual understanding

of the many dimensions of genetic diversity, and create simple but holistic descriptions of species' genetic status and spatiotemporal change, including Essential Biodiversity Variables (EBVs).

Evaluate the usefulness of genetic data (e.g. DNA sequences) compared to proxies of genetic data

such as range size, functional traits, harvest rate, or population census number (naturally connecting to the GEO BON Species Populations Working Group).

Advance the ability to aggregate genetic information across species and across multiple spatial and temporal scales

, up to the global level.

Identify and assess knowledge gaps

in statistical methods, computational infrastructure, and method assumptions, and work with a diversity of stakeholders and data providers to address these gaps.

Facilitate more rigorous and repeatable use of Genetic EBVs

and other genetic measures by developing standards, models, and knowledge resources, including best practices for sampling data, analysing datasets, and interpreting results.

Support the deployment of Genetic EBVs for policy and management

at regional, national and global levels, including by developing case studies, as well as evidence-based justification of the ecological, societal and economic importance of genetic diversity.
Activities
Data Products
Documents & Publications
Hoban S et al. 2021. How do Parties report to the Convention on Biological Diversity on genetic diversity, and how can reporting and monitoring be improved? Download policy brief [English]. Download full report on bioRxiv here.
Hoban S et al. 2020. Genetic diversity targets and indicators in the CBD post-2020 Global Biodiversity Framework must be improved. Biological Conservation. Download policy brief | https://doi.org/10.1016/j.biocon.2020.108654
Hoban S, Bruford MW, D'Urban Jackson J, Lopes-Fernandes M, Heuertz M, Hohenlohe PA, Paz-Vinas I, et al. 2020. "Genetic diversity targets and indicators in the CBD post-2020 Global Biodiversity Framework must be improved". Biological Conservation. 248: 108654. Download as PDF | https://doi.org/10.1016/j.biocon.2020.108654
Laikre L, Hoban S, Bruford MW, Segelbacher G, Allendorf FW, Gajardo G, et al. 2020. "Post-2020 goals overlook genetic diversity". Science. 367 (6482): 1083.2-1085. Email me a PDF | doi.org/10.1126/science.abb2748
Minter M, Nielsen E, Blyth C, Bertola L, Kantar M, Morales H, Orland C, Segelbacher G and Leigh D. 2021. "What Is Genetic Diversity and Why Does it Matter?" Frontiers for Young Minds. 9:656168. doi.org/10.3389/frym.2021.656168
Partners
Resources