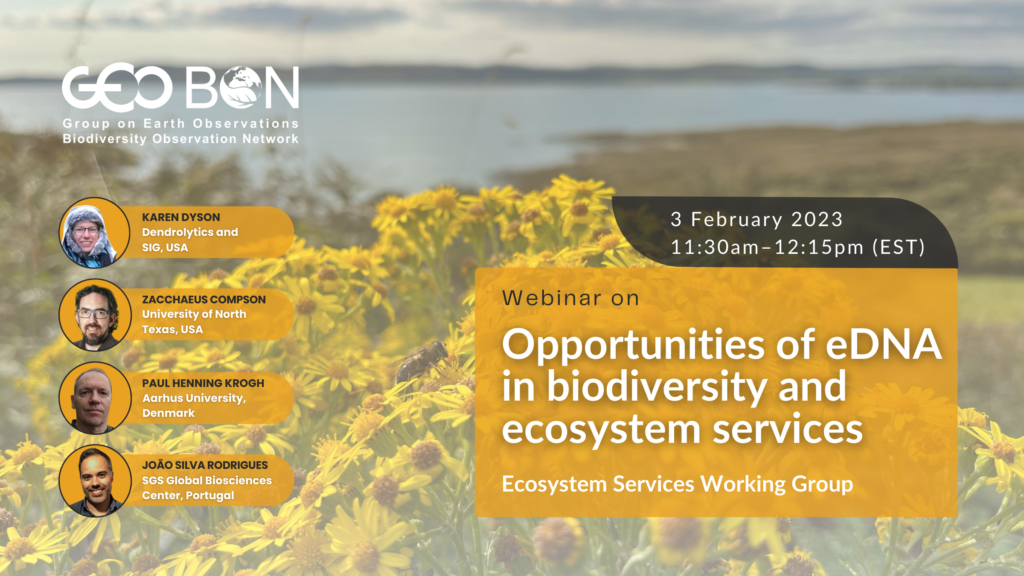 Recording: Youtube
When: FEBRUARY 3rd 2023
Time: 11:30 AM to 12:15 PM EST
Hosts (on behalf of the ES WG):
Ana Sofia Vaz (Research Center in Biodiversity and Genetic Resources, University of Porto, Portugal)
Nuria Pistón (Ecology department, University of Granada, Granada, Spain)
Speakers: 
Abstract: eDNA (environmental DNA) is a term often used to describe DNA that is present in the environment, such as in water or soil samples. It can come from a variety of sources, including shed cells, excrement, or other biological material. The use of eDNA in biodiversity and ecosystem services research has become increasingly popular in recent years as a way to non-invasively survey and monitor populations of organisms. The advantages of eDNA include cost-effectiveness and the ability to detect a wide range of species in a single sample. Yet, the use of eDNA to connect to ecosystem services and functioning has been less explored. Also, it is important to keep in mind that eDNA is not a panacea and has its own limitations as well. This webinar will address the potential role of eDNA and related techniques to address biodiversity and ecosystem services, expanding on the opportunities as well as on the caveats of this emergent technique. The webinar is organized by the Ecosystem Services Working Group with support from the GEO BON Secretariat.
Agenda:
| Time (ET) | Topic | Speaker | Affiliation |
| --- | --- | --- | --- |
| 11:30-11:35 | Welcome | Ana Sofia Vaz | Research Center in Biodiversity and Genetic Resources, University of Porto, Portugal |
| 11:45-11:50 | Soil sample based eDNA as a monitoring approach | Karen Dyson | Dendrolytics, Seattle, USA and Spatial Informatics Group, Pleasanton, California |
| 11:40-11:45 | eDNA as a bioassessment tool for local stakeholders | Zacchaeus Compson | Advanced Environmental Research Institute, University of North Texas, Denton, USA |
| 11:45-11:50 | Soil eDNA for biodiversity assessment and soil ecosystem services | Paul Henning Krogh | Faculty of Technical Sciences, Aarhus University, Aarhus, Denmark |
| 11:50-11:55 | eDNA monitoring in support of the business sector | João Silva Rodrigues | SGS Global Biosciences Center, Lisbon, Portugal |
| 11:55-12:10 | Discussion | | |
| 12:10-12:15 | Wrap-up | Nuria Pistón | Ecology department, University of Granada, Granada, Spain |