The GlobDiversity project, funded by the European Space Agency (ESA) and kicked off in May 2017, has just completed its first of two 14-month phases. GlobDiversity is the first project dedicated to the specification and engineering of a set of EBVs from satellite remote sensing on the function and structure of terrestrial ecosystems (RS-enabled EBVs).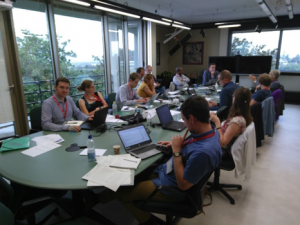 The project underwent its mid-term review at the ESA Centre for Earth Observation (ESRIN) in Frascati, Italy in September. The review meeting allowed for discussion on the project's interaction with GEO BON and its working groups and how to raise the profile of biodiversity monitoring within the Committee on Earth Observation Satellites (CEOS). The satellite observation requirements for the four RS-enabled EBVs studied in the project were reviewed and future steps were defined. A review process among GEO BON's Working Groups on ecosystem structure, function and community composition is underway for these observation requirements in order to build consensus among the community on the requirements for space-derived EBV data. A dedicated webinar will be held on this topic on the 4th February 2019.
The algorithms that have been benchmarked in phase 1 for each focus RS-enabled EBV will now be prototyped in the project's phase 2 in order to make them ready for production of RS-enabled EBV data for the use-cases and larger geographical areas. The algorithm and results will be documented in several reports available to the public by the end of 2019. Phase 2 will see the demonstration of RS-enabled EBV use cases and a regional exercise to investigate how RS-enabled EBVs data sets scale with geographical complexity. For further information on the project and updates please see our website:
GlobDiversity project successfully completes its first project phase!